We are thrilled to welcome our newly matched class of adult and neurology-psychiatry residents as we kick off the new year with great enthusiasm. We feel fortunate to have matched such a talented group of individuals with diverse backgrounds, whose unique perspectives and experiences will undoubtedly enhance our learning environment and foster a strong sense of community. By bringing together individuals from different backgrounds, we hope to bridge gaps and improve care for all patients, especially those from underrepresented and minority groups. We look forward to the positive impact our new residents will have on our program and the patients we serve.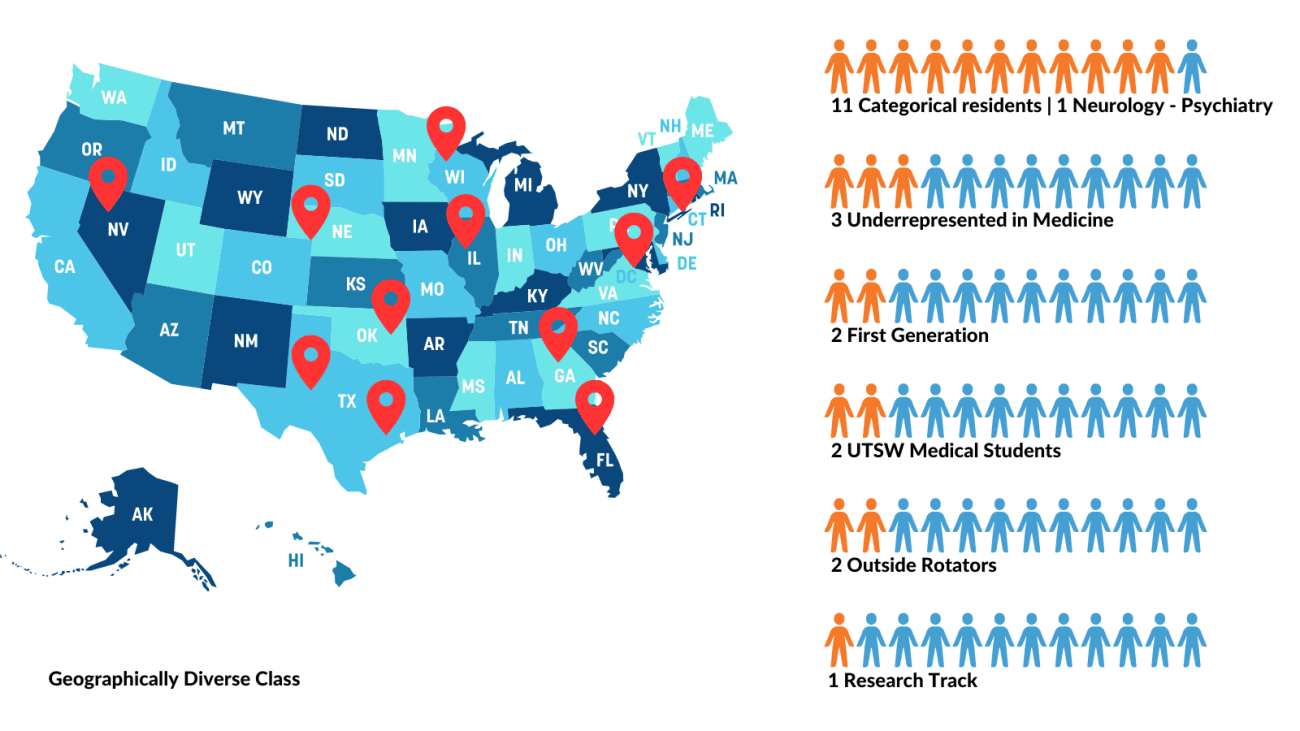 Adult Neurology
Austin Beltrand, M.D.
Medical School: University of Maryland School of Medicine
Undergraduate: UCLA
Dr. Beltrand has authored four basic science publications including research on opioid addiction in chronic neuropathic pain and the molecular mechanisms of astrocytosis in EAE. In 2020, he received the PRISM Merit Award and the FCMSC Medical Student Research Scholarship for his work on reactive astrocytosis, which he presented at the 2020 CMSC National Conference in Orlando. He is finalizing a fifth publication investigating the clinical significance of contrast-enhancing perivascular spaces on 7T MRI in MS. Dr. Beltrand is interested in Neuroimmunology but is equally captivated by the pathophysiology & treatment of rare diseases that hold significance in broad theories about the brain (i.e., synesthesias and congenital insensitivity to pain).
Kesar Dhillon, M.D.
Medical School: Medical College of Georgia at Augusta University
Undergraduate: Augusta University
Dr. Dhillon was drawn to Neurology bythe complex range of pathologies, the innovation that drives new treatments, and the close-knitneurology community it generates. Her research endeavors include contributions to clinical trials related to COVID-19 andopioid prevention. She has authored a publication outlining the adaptation of education at her institute in response to the pandemic. This publication highlights a pioneering and comprehensive curriculum that offers a secure virtual alternative to conventional clinical experiences. She is committed to serving underserved populations and volunteered in a mobile clinic in India, which focused on gynecology and obstetrics, providing essential healthcare services to those in need. 
Yereida Gallardo, M.D., M.S.
Medical School: Rush Medical College
Graduate: Johns Hopkins University
Undergraduate: Northwestern University
Dr. Gallardo is highly interested in outpatient neurology, particularly neuroimmunology/MS and neuromuscular disorders, as she finds working with these specific patient populations highly rewarding.Shaped by her mentor relationships, she is passionate about helping others throughout their professional career. Dr. Gallardo is most proud of contributing to various cognitive research projects during herundergraduate studies. Impressed by the level of exposure to various neurology subspecialties that are offered at UTSW, she is excited to start her training with UT Southwestern.  
Shelby Kerr, M.D.
Medical School: Creighton University School of Medicine
Undergraduate: University of Missouri
Dr. Herr was first drawn to the field of neurology when her father was diagnosed with Parkinson disease. Immersing herself in the field of neuroscience, she found her passion for movement disorders and neuroimmunology. She is strongly interestedin studying the non-motor symptoms of Parkinson disease and hopes to provide holistic care for patients. During her time as a medical student, Dr. Herr found working in admissions rewarding, as she enjoyed putting people at ease and contributing to the future of medicine. She looks forward to a career where she can be surrounded by healthcare providers, mentor and learn from her peers, and continue to make an impact in medicine. 
Jesse Maguire, M.D.
Medical School: Medical College of Wisconsin
Undergraduate: Indiana Wesleyan University
Dr. Maguire has loved every facet of neurology that he's been exposed to so far and hopes to broaden his exposure during residency. Interested in a clinical educator career, he hopes to continue teaching and sharing his experiences with his peers. He worked on the board of directors for the student-run free clinic in Milwaukee and pioneered a telemedicine program during the pandemic to keep the clinic open despite COVID-related restrictions. He was drawn to UTSW by the residents and faculty in the department who emphasized the importance of each other within the neurology community and the role of continual learning, which helped him realize that the program would be a perfect fit for his goals. 
Navid Manouchehri, M.D.
Medical School: Isfahan University of Medical Sciences, Iran
Dr. Manouchehriis specifically drawn to autoimmune disorders of the brain and spinal cord. His interest in this area led him to research novel therapeutics, specifically immune cell traffic and disease-specific biomarkers for diagnostic and prognostic purposes. His work has resulted in several peer-reviewed papers, and he was awarded the Fred Baskin Young Investigator Award for his research within the UTSW Department of Neurology. He continues to be involved in ongoing research in this field. He was the head of the standing committee on public healthand a member of the International Federation of Medical Students Associations where he oversaw the promotion of principles of public health among medical students through national and regional-themed projects. Dr. Manouchehri'spost-doctoral position at UTSW brought him to Dallas. 
Anayelly Medina, M.D.
Medical School: Tufts University School of Medicine
Undergraduate: Emory University
Dr. Medina pursued Neurology because of her fascination with the nervous system and her background in Neuroscience. She has played a pivotal role as a Spanish interpreter and language leader at the Good Samaritan clinic in Atlanta, providing services for the underserved. Driven by her passion for immigration and healthcare, Dr. Medina aims to explore ways to overcome barriers to access to care. As a research assistant for a NIH-funded project, she provided care to a culturally diverse community in Boston. She currently holds memberships in organizations such as the American Medical Association and the Massachusetts Medical Society.  
Tabarak Mian, M.D.
Medical School: UT Southwestern Medical School
Undergraduate: UT Dallas
Dr. Mian is interested in pursuing neuro-oncology or neurocritical care. Both fields garnered his interest due to their pathophysiology, palliative care discussions, and ethical challenges in patient care. His prior research endeavors have included examination of vagus nerve stimulation as an approach to augment synaptic plasticity following neurological injury in various animal models, as well as clinical research on treatment responses in various CNS tumors. Dr. Mian is currently involved in research examining neuroprognostication following anoxic brain injury. He has enjoyed mentoring undergraduate & medical students and the local youth community in his mosque in the past. To this end he is interested in a career in academic medicine wherehe hopes to serve as a clinical and research mentor.  
Preeti Mohan M.D.
Medical School: University of Oklahoma College of Medicine
Undergraduate: Northwestern University

Dr. Mohan completed a Cancer Research Training Award Fellowship at the NIH, where she researched the packaging and trafficking of HIV RNA. In medical school, she focused on developing mentorship opportunities for underclassmen. She was heavily involved in the Student Interest Group in Neurology (SIGN), serving as secretary, vice president, and president during medical school. She is proud of the work she'sdone to develop two medical student groups focused on improving underrepresented student mentorship and promoting inclusive diversity initiatives on the OU campus. For this, she was inducted into the Gold Humanism Honor Society and was awarded Outstanding Senior Leader at the University of Oklahoma College of Medicine. Dr. Mohan is currently interested in headache and neuromuscular medicine. 
Chandrasekhar Sundarrajan, M.D.
Medical School: UT Southwestern Medical School
Undergraduate: UT Dallas
Dr. Sundarrajan is looking forward to exploring all the subspecialties within Neurology during his residency. His passion for neurosciences led to extensive research experiences in glioblastoma and neurometabolic disorders. He has several publications, with his latest work focusing on myositis. His 4 years as a curriculum representative during medical school at UTSW piqued his interest in medical education, curriculum design, and mentorship. Dr. Sundarrajan served as a peer mentor, providing invaluable guidance to first- and second-year medical students, and helped improve their history and physical exam skills. An aspiring academic neurologist, he hopes to balance his time as a researcher and educatorto serve his hometown community.  
Moya Tomlin, M.D.
Medical School: Univ. of Miami Leonard M. Miller School of Medicine
Undergraduate: Georgia Institute of Technology
Dr. Tomlin finds inspiration in the convergence of clinical and basic science research. Through her involvement in the LemBix Lab, she expanded her research portfolio to include working with live animals. Her research endeavors encompassed the study of central nervous system regeneration and the exploration of protein interactions in myocilin-associated primary open-angle glaucoma (MPOAG). Driven by a deep sense of community service, she worked within a student-led organization that provides essential healthcare services to those in need, particularly individuals without insurance. As a clinical coordinator with Miami Street Medicine, she facilitated access to medical care for the homeless population, connected them with social workers, and conducted crucial check-ups to ensure their well-being. 
Jacklyn McBride, M.D.
Medical School: University of Nevada Reno School of Medicine
Undergraduate: University of Nevada Reno
Dr. McBride has authored two peer-reviewed publications on memory deficits in chronic mild traumatic brain injury and contact hand burns in children. Additionally, she has undertaken projects investigating age-related hearing loss and task control inhibition in refractory OCD. Her contributions were recognized with the GURA Research Award and the NSF EPSCR (Established Program to Stimulate Competitive Research) Grant among others. Dr. McBride's research endeavors have provided her with a solid foundation in experimental design and data analysis. Driven by her passion for aviation and aerospace medicine, she obtained a single-engine pilot license and conducted studies on the impact of positive and negative G forces on working memory. Furthermore, she actively engages in mentorship and education, assuming various instructional roles throughout her educational journey.