New regimen added to national treatment guidelines based on results of study co-led by UT Southwestern
A targeted therapy using three different drugs significantly delayed progression and extended survival for breast cancer patients whose HER2 gene is mutated, a multicenter study co-led by researchers at UT Southwestern Medical Center shows. The findings, published in Annals of Oncology, suggest a new strategy for a difficult-to-treat form of breast cancer that has become resistant to other treatments and currently has no curative options.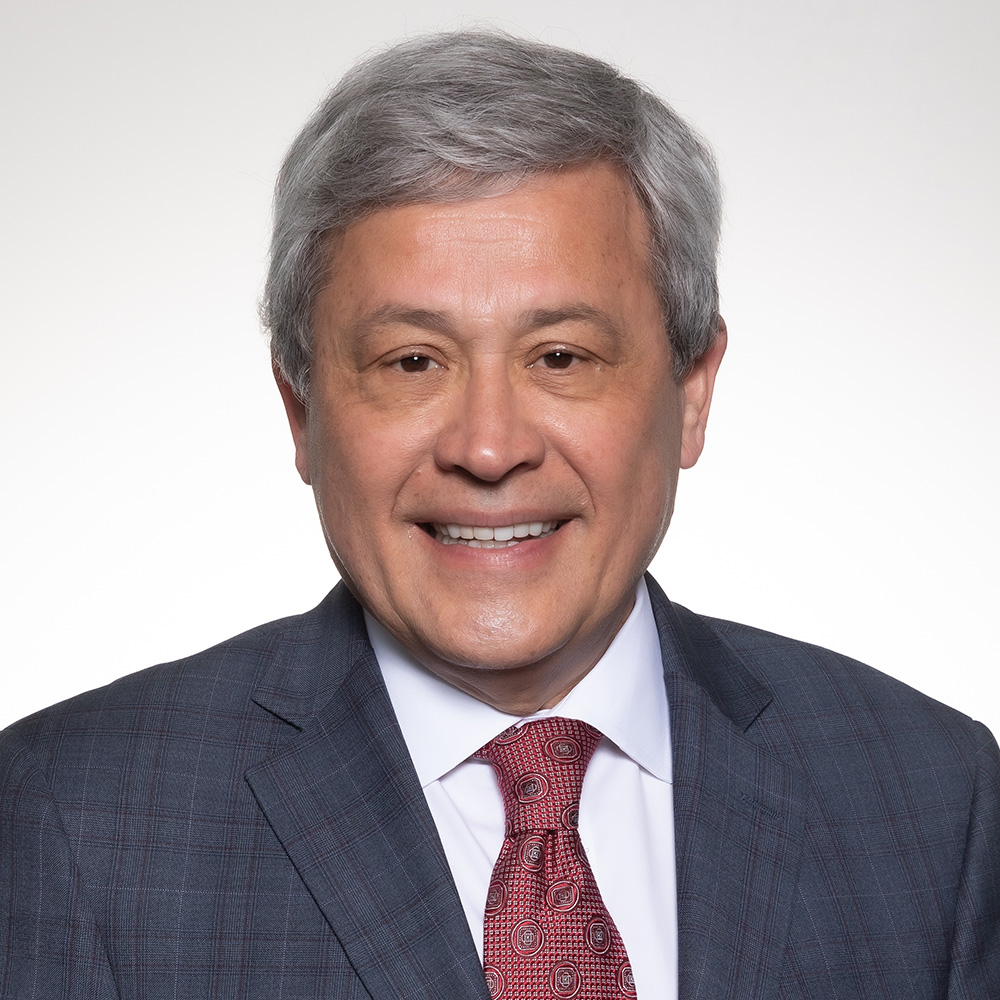 Carlos L. Arteaga, M.D., is Director of the Harold C. Simmons Comprehensive Cancer Center and Associate Dean of Oncology Programs at UT Southwestern Medical Center.
"This novel combination therapy showed very encouraging results, even in patients who failed several other lines of treatment," said co-lead author Carlos L. Arteaga, M.D., Director of the Harold C. Simmons Comprehensive Cancer Center and Associate Dean of Oncology Programs at UT Southwestern.
Based on the results of this study, the National Comprehensive Cancer Network has added this three-drug combination to its treatment guidelines.
Research has found that close to 10% of patients with metastatic breast cancer harbor cancer-promoting HER2 mutations. Although these tumors initially respond to HER2-inhibiting drugs, studies have shown that they eventually stop responding after new mutations develop.
Seeking a way to slow or stop progression of tumors bearing HER2 mutations, Dr. Arteaga and his colleagues – including Nisha Unni, M.D., Associate Professor of Internal Medicine, and Ariella Hanker, Ph.D., Assistant Professor of Internal Medicine, both members of the Simmons Cancer Center – tested various combinations of three different drugs among 71 breast cancer patients being treated at 23 medical centers around the world. All of the patients were positive for mutations in their HER2 gene as well as hormone receptors, cell-surface proteins that can fuel cell growth and often occur in conjunction with HER2 overactivity. These patients had failed an average of three systemic cancer treatments.
Fifty-seven patients received a combination of neratinib, a HER2 tyrosine kinase inhibitor; fulvestrant, which inhibits estrogen receptors; and trastuzumab, a HER2 blocking antibody. Seven patients received a combination of fulvestrant and trastuzumab, and seven received just fulvestrant. The 14 patients in the latter groups had the option to switch to the triple-drug therapy if they didn't respond to the treatments they received.
Every eight weeks, researchers tracked patient response through CT scans or MRIs. Those taking only fulvestrant or fulvestrant and trastuzumab showed no response at all, but about 39% of those taking the triple combination showed a partial or complete response, meaning that their tumor growth had slowed, stopped, or reversed. Those who responded continued to do so for an average of 14.4 months, with about 8.3 months free from cancer progression. Of the 14 patients who initially did not take the triple-drug combination, three of the 10 who switched to this regimen had partial responses.
Tests of the patients' circulating tumor DNA – genetic material shed by their tumors into the bloodstream – showed that they continued to develop additional mutations in HER2 and some other cancer-related genes, which eventually caused them all to stop responding to treatment. However, the researchers say, as more therapies that target specific mutations are developed, it may be possible to treat new mutations as they arise, further extending patients' survival.
"Circulating tumor DNA may eventually be a key component in assessing tumor evolution and providing tailored treatment," Dr. Arteaga said.
Based in part on these results, the researchers are planning a first-in-class multi-institutional neoadjuvant trial of neratinib and the aromatase inhibitor letrozole in patients with newly diagnosed invasive lobular breast cancer harboring HER2 mutations.
Dr. Arteaga, Professor of Internal Medicine, holds The Lisa K. Simmons Distinguished Chair in Comprehensive Oncology. The Simmons Cancer Center is one of 33 members of the National Comprehensive Cancer Network and one of 56 National Cancer Institute-Designated Comprehensive Cancer Centers. The Simmons Cancer Center is ranked 19th for cancer care among over 800 cancer hospitals by?U.S. News & World Report.?Its faculty members treat more than 9,000 new cancer patients a year, participate in over 300 active clinical trials, and have more than $100 million in extramural cancer-focused research funding.
This study was funded in part by Puma Biotechnology Inc. and the National Cancer Institute (R01CA224899). Dr. Arteaga has served as a scientific adviser to Puma Biotechnology. Financial disclosures for all of the authors are included in the manuscript.