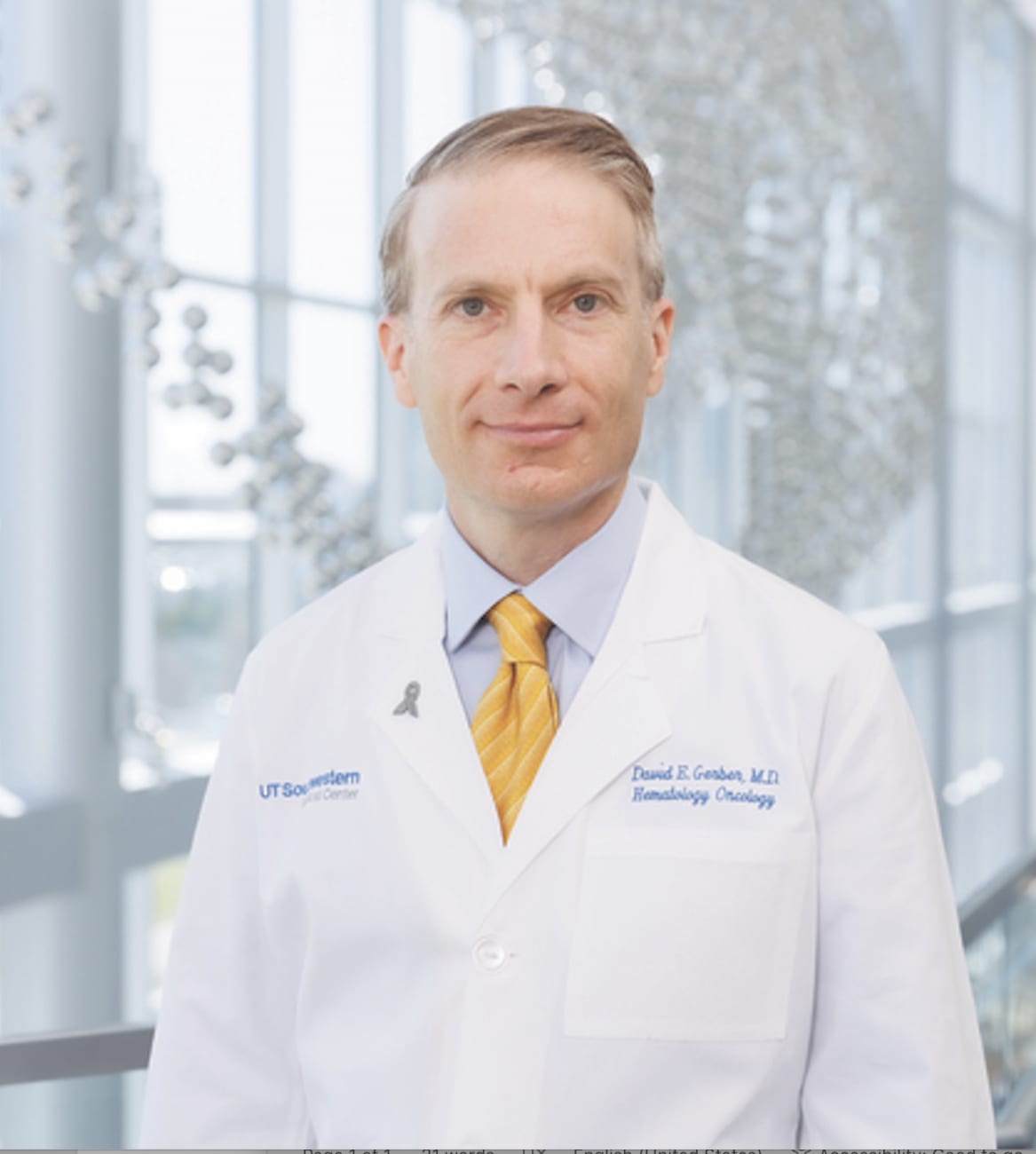 David Gerber, M.D.
UT Southwestern Harold C. Simmons Comprehensive Cancer Center researchers are at the forefront of ensuring that patients from underserved communities don't fall through the cracks. Erin Williams, M.B.A., Director of Clinical Research Operations at Simmons Cancer Center, and David Gerber, M.D., Professor of Internal Medicine, Hematology and Oncology, are part of a group of experts heading initiatives aimed at helping patients from minority populations navigate the complex clinical trials landscape.
"Over the past year, Simmons was awarded a number of grants to help patients from racially and ethnically diverse backgrounds participate in our cancer clinical trials," Dr. Gerber says. "Being the recipient of these awards is a testament to our center's unique approaches to help patients overcome language, transportation, and financial barriers."
Racial and ethnic minorities, as well as other diverse patient groups, are commonly underrepresented in trials because they lack access to treatment centers that offer research studies. Dr. Gerber and his staff are devoted to providing measurable and sustainable research resources and support for these groups.
Erin Williams, M.B.A.
The following grants will allow Simmons Cancer Center to expand its scope to help reach underserved communities:
Cancer Prevention and Research Institute of Texas (CPRIT) Clinical Trial Participation Award (RP210115)
Provides funding to reimburse nonclinical costs (e.g., transportation, lodging, and food) for patients participating in clinical trials 
American Cancer Society Navigation Award
Provides funding to help patients navigate clinical trials at all Simmons clinical sites, including locations in Dallas, Fort Worth, and Richardson/Plano as well as at Parkland Health (the integrated safety-net health care provider for Dallas County)
Stand Up to Cancer Diversity in Early Clinical Trials Research Grant
Provides funding to offer early-phase cancer clinical trials at UT Southwestern to underrepresented minority cancer patients at Parkland
CPRIT Clinical Trials Network Award (RP220542)
Provides funding to expand access to clinical trials throughout Texas by establishing a Simmons-led network including John Peter Smith (the safety-net health care provider for Tarrant County) in Fort Worth and Baylor Scott & White in Temple, Texas
"Our long-term goal is to expand our capacity as health advocates, providing access to clinical trial navigation support at all of our sites," Ms. Williams says.
Erin Williams, M.B.A., is the Director of Clinical Research Operations at Simmons Cancer Center.
David Gerber, M.D., is a Professor in the Department of Internal Medicine in the Division of Hematology and Oncology and in the Peter O'Donnell Jr. School of Public Health at UT Southwestern. He is Co-Director of the Experimental Therapeutics Program at Simmons Cancer Center.