As only American to present, researcher talked about her work on the Charcot foot at global conference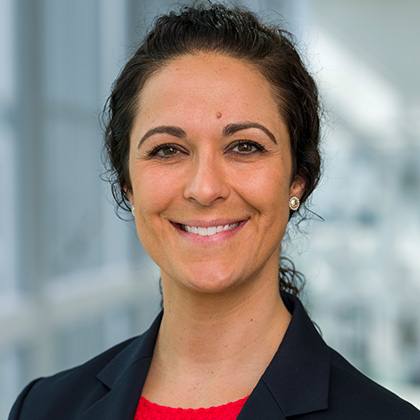 Katherine Raspovic, D.P.M.
Katherine Raspovic, D.P.M., Associate Professor of Orthopaedic Surgery and Plastic Surgery, was among four clinician researchers chosen to present in the Rising Star Minisymposium at the 9th International Symposium on the Diabetic Foot (ISDF) in The Hague, Netherlands. Held once every four years, the prestigious ISDF is the largest conference devoted to lower extremity problems in diabetes and attracts leading experts from across the world. This year's conference attendees represented 89 countries.
Dr. Raspovic discussed important topics related to surgical intervention in patients with Charcot neuro-osteoarthropathy of the foot and ankle, a chronic and destructive disease of the bone structure and joints resulting from peripheral neuropathy that often stems from diabetes. She covered indications for operating in the active phase, preoperative patient optimization, preoperative edema reduction, and postoperative complications.
"I was honored to participate and represent the Department of Orthopaedic Surgery and UT Southwestern and share the work and research that we have done on the Charcot foot," Dr. Raspovic said. "By helping other providers better understand Charcot, we can ultimately improve patient quality of life and even prevent lower extremity amputations."
This was the first Rising Star Symposium at the ISDF, held May 10-13. Presenters were nominated by the conference organizing committee based on their research contributions and publications on diabetic foot disease. Of the four clinician researchers selected, Dr. Raspovic was the only American and the only female. The other three Rising Star presenters were from the Netherlands, Italy, and Australia.
"Among the highlights was meeting with other researchers who are dedicated to helping people with diabetes-related complications of the lower extremity. Hopefully, these connections will lead to future research collaborations," Dr. Raspovic said.
After earning her doctoral degree in podiatric medicine at Des Moines University College of Podiatric Medicine and Surgery, Dr. Raspovic completed her residency in podiatric surgery and a fellowship in orthopedic foot and ankle surgery at the University of Pittsburgh Medical Center. She joined UTSW in 2017. She is a Fellow of the American College of Foot and Ankle Surgeons (ACFAS) and serves on the ACFAS Annual Scientific Conference Planning Committee. She is the Secretary of the Charcot Working Group of the ISDF, is a section editor for the Journal of Foot and Ankle Surgery, and previously served as the Chair of the Foot Care Interest Group of the American Diabetes Association.