UT Southwestern Medical Center's Center for Depression Research and Clinical Care is collaborating with mental health colleagues across the country to expand detection and treatment for depression and other disorders across Texas as part of the Lone Star Depression Challenge.
The Lone Star Depression Challenge brings together three proven strategies to address the challenge of identifying those who need help – particularly in vulnerable populations with higher rates of depression and less access to traditional care venues – and provide standardized strategies that can help personalize treatments for each individual.
Dr. Madhukar Trivedi
"Over the last decade we have been able to develop, research, and refine what's now known as Measurement-Based Care. This data-centric care approach uses systematically collected data to detect and recognize depression, choose the right treatment, and recalibrate treatment over time as needed," said Dr. Madhukar Trivedi, Director of the Center for Depression Research and Clinical Care and part of the Peter O'Donnell Jr. Brain Institute at UT Southwestern. "The Lone Star Depression Challenge allows us to combine this data-based approach with other strategies and broaden that to a statewide effort that has tremendous potential to strategically transform mental health care across Texas and help many who are currently being overlooked."
The Measurement-Based Care strategies, which have been shown to improve outcomes by 40 to 60 percent, are being combined with others that have been proved effective into a three-tiered Lone Star Depression Challenge action plan. The initiative is being led by Meadows Mental Health Policy Institute in collaboration with the Center for Depression Research and Clinical Care at UT Southwestern, Harvard Medical School's Department of Global Health and Social Medicine, and The Path Forward for Mental Health and Substance Use.
Lyda Hill Philanthropies and Lever for Change announced Meadows Mental Health Policy Institute as the recipient of the $10 million Lone Star Prize, a Texas-based competition launched in early 2020 to improve the lives of Texans and their communities. The prize, sponsored by Lyda Hill Philanthropies and managed by Lever for Change, was designed to find and fund bold solutions focused on building healthier, stronger communities and provides catalytic funding to scale the three interconnected programs to prioritized regions.
Dr. Trivedi, Professor of Psychiatry and Chief of the Division of Mood Disorders at UT Southwestern, developed the measurement-based care (MBC) standards and networking that will serve as part of the infrastructure needed to go beyond traditional care models to reach those who are often overlooked or missed. 
Often depression is not recognized and detected until eight to 10 years after symptoms emerge. Because of this, less than 1 in 15 of the 1.5 million Texans suffering from depression each year receive sufficient care to recover, project leaders noted. The COVID-19 pandemic has exacerbated the situation, with symptoms of depression up fourfold and the number of people seriously considering suicide doubling. Tragically, nearly 4,000 Texans die each year from suicide, even though efficacy rates for available depression treatments are higher than 60 percent.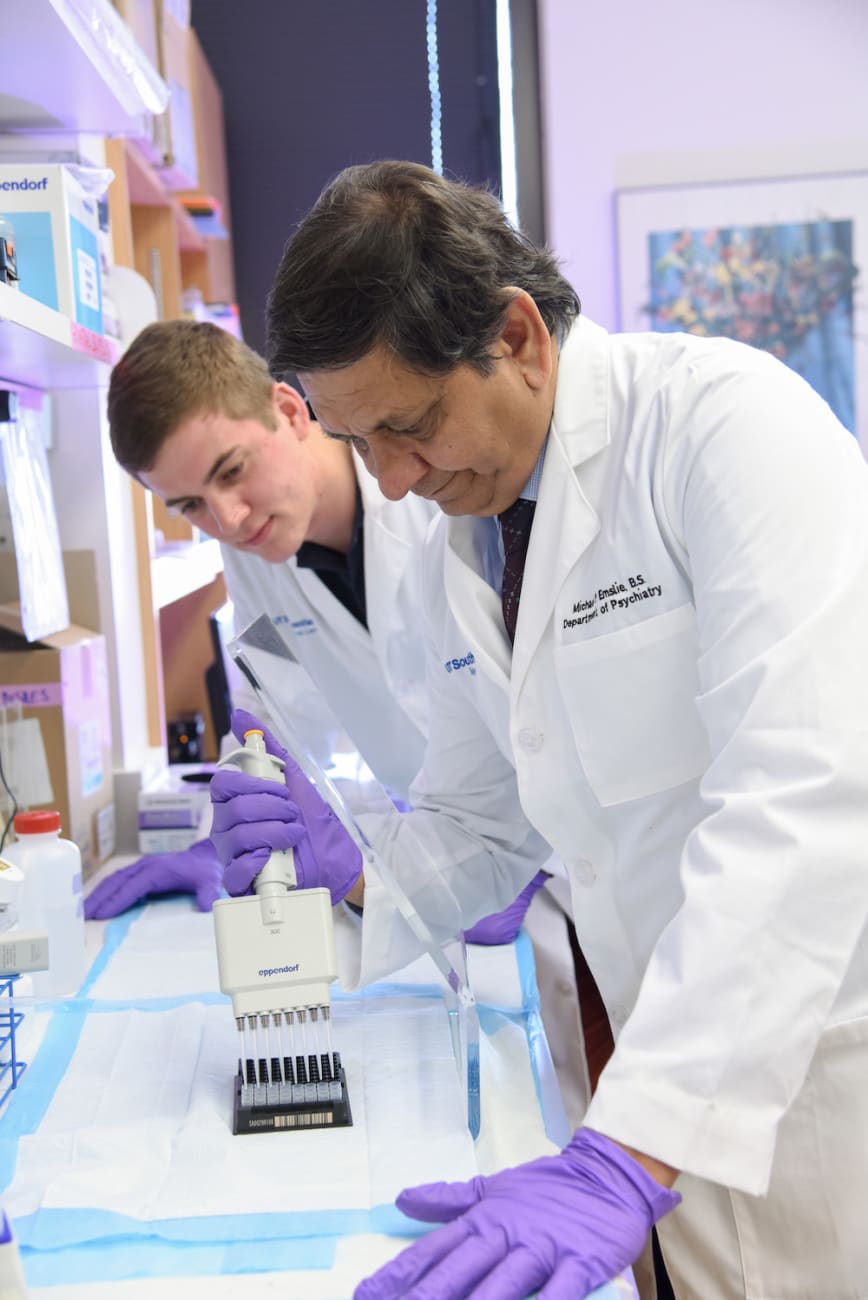 Dr. Trivedi's research at UT Southwestern over the last 25 years has focused on understanding the neurobiology and psychology of depression and bipolar disorder, with a particular emphasis on developing an empirical basis for improving treatment of depression.
However, a seminal seven-year study led by Dr. Trivedi showed that collecting standardized data on symptoms and using it to refine care over time could achieve comparable results for routine depression care delivered by generalist practitioners as specialists. Replicated multiple times, MBC has proved effective – doubling rates of remission and helping people with mild to moderate depression achieve recovery rates of over 50 percent by six months. 
Dr. Trivedi also led the establishment of the Texas Child Mental Health Care Consortium's Depression Research Network in 2020, establishing key referral partnerships into a network of regional nodes that will serve as the backbone for expanding the Lone Star Depression Challenge initiatives across the majority of Texas over the next five years.
"It has taken decades of research and modeling to determine how best to reach those who are most vulnerable and in need with impactful and functional outreach strategies as well as establish the biomedical basis for tracking effective treatments," said Dr. Trivedi, who holds the Betty Jo Hay Distinguished Chair in Mental Health, and the Julie K. Hersh Chair for Depression Research and Clinical Care. "This is a unique opportunity to pull together all those findings and put into broad practice proven, effective measures to meaningfully address and transform care and bring relief to hundreds of thousands of people who are struggling silently in the shadows."
Dr. Trivedi's research at UT Southwestern over the last 25 years has focused on understanding the neurobiology and psychology of depression and bipolar disorder, with a particular emphasis on developing an empirical basis for improving treatment of depression. Dr. Trivedi and his team have been involved in many of the pivotal studies involving the establishment of efficacy of antidepressant treatments (medications, psychotherapy, exercise, complimentary treatments, devices, etc.), examining next steps in treatment resistant depression to develop algorithms and guidelines, and developing and validating biomarkers in order to reach the goal of precision medicine for mood disorders. Among the more notable studies are:
The Center for Depression Research and Clinical Care was launched in 2015 through a $5 million lead gift to Southwestern Medical Foundation from the Hersh Foundation. The goal of the Center is to accelerate new discoveries into the causes and treatment of depression, bipolar, and related conditions. In addition to treatment studies, current ongoing investigations are focused on understanding the biological mechanisms of depression and antidepressant treatment response, fostering mental wellness and resilience for youth and young adults through the Risk and Resilience Network, and identifying objective markers for suicide by investigating whether inflammation in the body is related to increases in suicidal thoughts among youth and young adults.
Embedding these evidence-driven strategies in primary care settings allows help to be accessed with less stigma, one trip to the doctor instead of two, and less time away from work and family responsibilities. Instead of fewer than 100,000 Texans with depression finding hope today, we conservatively project that a fully scaled system available to all Texans has the potential to help at least 600,000 Texans realize full symptom remission and nearly 400,000 more achieve enough relief to recover as well as reduce rates of death from suicide by up to one-third.
Lone Star Depression Challenge
The Lone Star Depression Challenge responds by combining and expanding three proven programs to reduce barriers for all Texans with depression, detect their needs earlier, and care for them more effectively, prioritizing and engaging people of color, people with disabilities, and people living in poverty. These programs include:
The Cloudbreak Initiative embeds early detection and treatment in primary care through two proven approaches: Measurement-Based Care (MBC), the routine use of repeated, validated measures to track symptoms and functional outcomes over time, and the Collaborative Care Model (CoCM), an integrated approach to the treatment of depression that involves care managers and consultant psychiatrists engaging directly within primary care settings to support the primary care practice. Together, MBC and CoCM have been proven in dozens of studies, and we expect their full real world implementation to help at least 40% of people treated in primary care for depression achieve full symptom relief and another 25% recover substantially.
EMPOWER employs a suite of digital solutions to enable community health workers, peer specialists, and others on the front line deliver brief psychological treatments and engage people who need it into additional care. The effort builds on two decades of research demonstrating that community members can be trained to deliver brief psychological treatments for depression, reaching across race, ethnicity, poverty and other barriers to people who would otherwise experience limited access to needed care. 
The Path Forward is a national initiative of business, government, nonprofits, health systems, and health payers collaborating to improve access to affordable, high-quality mental health and substance use services. Corporate and government purchasers in North Texas are among eight lead regions working with counterparts across the country to reform payment approaches and drive adoption of advanced depression care provided to employees and their dependents.