Stephen Lummus knew he was putting himself at risk when he went to New York in April 2020  to help beleaguered hospital workers during the COVID-19 surge. "This could be the last time you see your family," he remembered thinking.  
The 58-year-old physician assistant survived his trip to the Northeast. But after returning to the Dallas area, he caught the virus that causes COVID-19 a few months later while working long hours testing patients for COVID-19 at urgent care facilities in North Texas.
In many ways, the worst began after he "recovered" at home from COVID-19. Mr. Lummus – like hundreds of others who have sought treatment at UT Southwestern's COVID Recover rehabilitation program – discovered that symptoms can linger for months after the virus abates. In January 2021, two weeks after he thought he had beaten COVID-19 with just a quarantine at home, a flare-up came with mental fog, shortness of breath, and unbearable fatigue that finally put him in the hospital.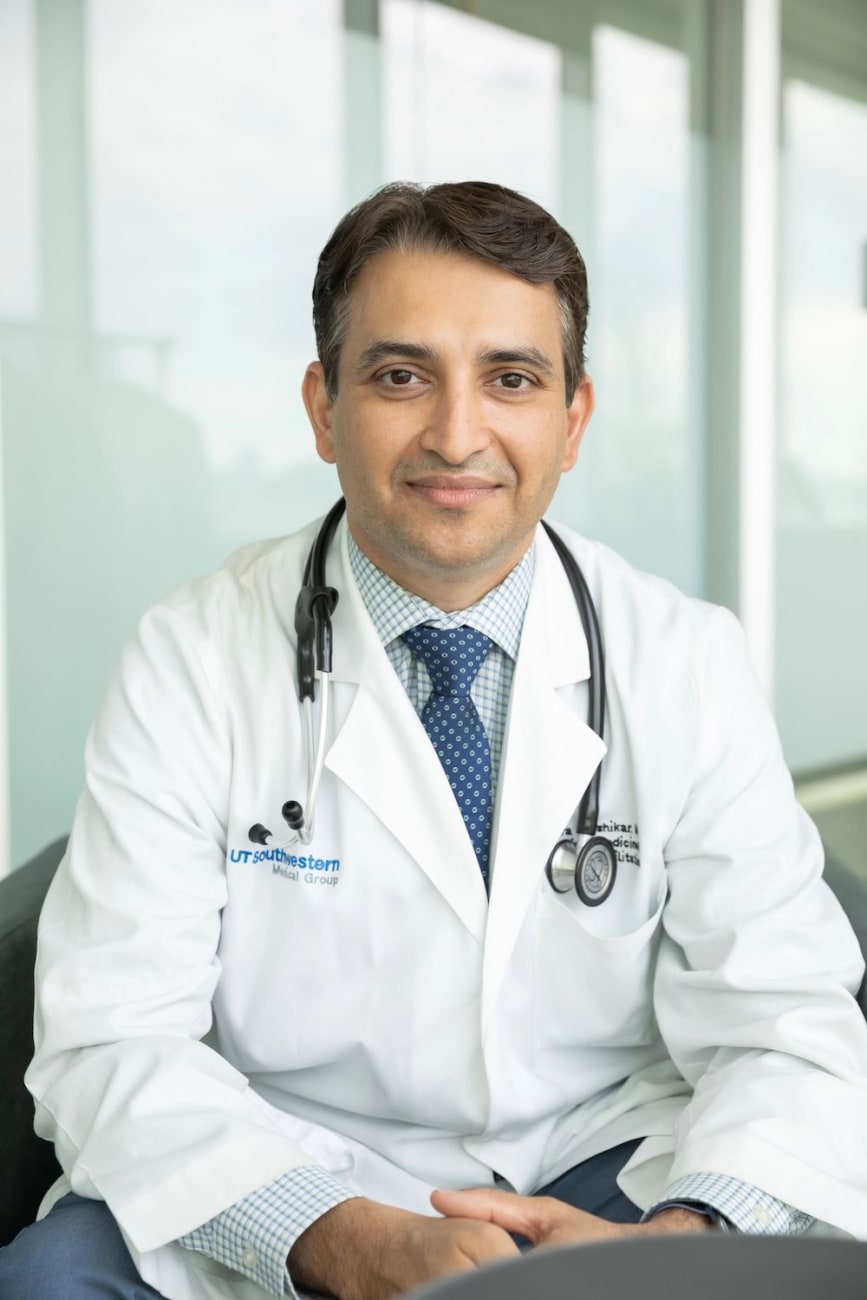 Dr. Surendra Barshikar directs the COVID Recover program.
Perhaps 20 to 30 percent of COVID-19 patients experience such aftereffects – a problem referred to as "long-haul," "long," or post-acute COVID if symptoms linger for four weeks or more following the initial infection, said Dr. Surendra Barshikar, who directs UTSW's COVID Recover program and is Vice Chair and Assistant Professor of Physical Medicine and Rehabilitation. The UTSW program is thought to be the first and still one of just a few such programs in North Texas.  
An April article in Nature Medicine examined studies from around the world and found varying prevalence rates for long-term symptoms. Of 488 patients surveyed after discharge from 38 Michigan hospitals, 32.6 percent complained of persistent symptoms. In a report from the United Kingdom, 74 percent of those studied who had survived hospitalization for COVID-19 had post-acute symptoms. Of 1,733 patients evaluated in Wuhan, China, six months after contracting the virus, 76 percent still had at least one symptom, according to yet another report. Fatigue, shortness of breath, joint pain, and loss of taste/smell were among the most common aftereffects.
At UT Southwestern's COVID Recover program, with locations in Dallas and Frisco, the No.1 symptom is fatigue, Dr. Barshikar said, followed by mental fog and shortness of breath. Then there are psychological problems such as anxiety, worsened depression, and even post-traumatic stress disorder, followed by dysfunction of the autonomic nervous system that regulates heart rate and digestion, which can cause dizziness and heart rate spikes. 
Cause of long-term symptoms unknown
"The exact cause of these lingering symptoms is not known," said Dr. Barshikar. "We don't know how soon patients will recover, but we are seeing progress and do expect them to improve."
James Doyle, another COVID Recover patient, receives plasma treatment during his initial treatment.
It is known that COVID-19 attacks the lungs and leads to a massive inflammatory response. The heart, kidneys, and liver also can suffer damage. 
Residual inflammation of nerves and muscles may be at the root of some of the long-term symptoms, such as fatigue, Dr. Barshikar said. Scarring of the lungs can cause shortness of breath and difficulty breathing. Being isolated and fearful while hospitalized or quarantined could contribute to psychological problems, he added.
Rehabilitation physicians anticipated some residual problems for patients requiring ventilator support and hospitalized for a long period, said Dr. Juan Cabrera, Assistant Professor and Medical Director of the Physical Medicine & Rehabilitation Clinic at UT Southwestern's Frisco campus and head of the COVID Recover program there. More surprising and challenging has been the number of survivors with persistent symptoms following mild to moderate COVID-19 symptoms – a group that makes up the majority of those being treated for long COVID at UT Southwestern, he said.
Dr. Kathleen Bell, Chair of Physical Medicine & Rehabilitation, was one of the early experts to sound the alarm. UT Southwestern opened its COVID Recover clinics in April 2020, soon after the state's March lockdown. Drs. Bell and Barshikar became speakers in panel discussions and media briefings arranged by the Centers for Disease Control and Prevention and the Infectious Diseases Society of America to discuss long-term COVID-19.
The Long Road to Recovery
UTSW's COVID Recover clinics offer a combination of physical therapy to help patients regain strength and mobility, occupational therapy to improve activities of daily living, and speech therapy for cognitive rehabilitation. A four-week virtual group therapy program is offered to help patients address psychological, sleep, and other issues they may face. Neuropsychologists and licensed professional counselors are available at each site for those who need more individualized attention. If needed, consultants have been identified in pulmonology, cardiology, neurology, and psychiatry for additional care.
Seeking a return to normal
James Doyle, a Lewisville pharmaceutical marketer who believes he contracted COVID-19 on a plane ride home from a conference in June 2020, joined the COVID Recover program in September. Mr. Doyle, 55, spent two weeks at William P. Clements Jr. University Hospital in July 2020 after returning from his conference. "I was 20 or 30 minutes away from being on a ventilator," he recalled.
Feeling much better now, James Doyle enjoys one of his hobbies, fly fishing.
He got out of the hospital late that month but said "August and September were miserable. Just getting out of bed and going to the restroom was like a marathon. I just couldn't breathe."
For a man used to snow skiing in Utah and hiking in Wyoming, the change was hard to accept. "We're a very athletic family, so it was very surprising to me to be out of breath as I walked down the street," Mr. Doyle said.
In November 2020 – two months after entering the COVID Recover program – he was about halfway back to normal, he said. By January 2021, when he left the program, he was almost his old self. While he still can't exercise as long as he did before, he was able to go skiing with his family in February and hike in Wyoming in May.
Meanwhile, Stephen Lummus, who entered the program in March 2021, is still working toward recovery. By early June, he still hadn't been able to return to work. Brain fog sometimes makes it difficult to say the right word. He told of having to describe the family TV ("that thing in our room – the thing you watch") because he couldn't think of the word for it.
He has some difficulty breathing, but that and most of the other problems have improved. "Before, I couldn't speak without breathing hard. Now I can take 30-minute walks. It's so much better than it was, and it is getting better," he said.
Mr. Lummus, with his medical training, said he likes the COVID Recover program's multidisciplinary approach, addressing neuropsychology, physical therapy, pulmonary, and cardiology concerns. But the best part is simply the reassurance that what he is going through isn't all in his head – and that he is not alone.
James Doyle participates in rehabilitation to help him recover from COVID-19 aftereffects.
"Not only do I feel like I'm not going crazy, I feel like there's hope for the future. I can see that the light at the end of the tunnel isn't a train. Hey, I'm going to make it through to the other side," he said.